The 2023 Subaru Love Promise Customer and Community Commitment Award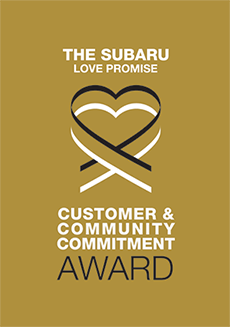 We've been nationally recognized for our dedication to our customers, our community, and the Subaru Love Promise.
We're honored to receive the 2023 Subaru Love Promise Customer and Community Commitment Award. This award nationally recognizes elite Subaru retailers who provide an exceptional customer experience at every interaction with Subaru. These retailers have also demonstrated an outstanding commitment to supporting passions and causes in their local communities in important areas such as the environment, community, health, education, and pets.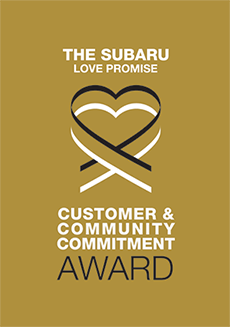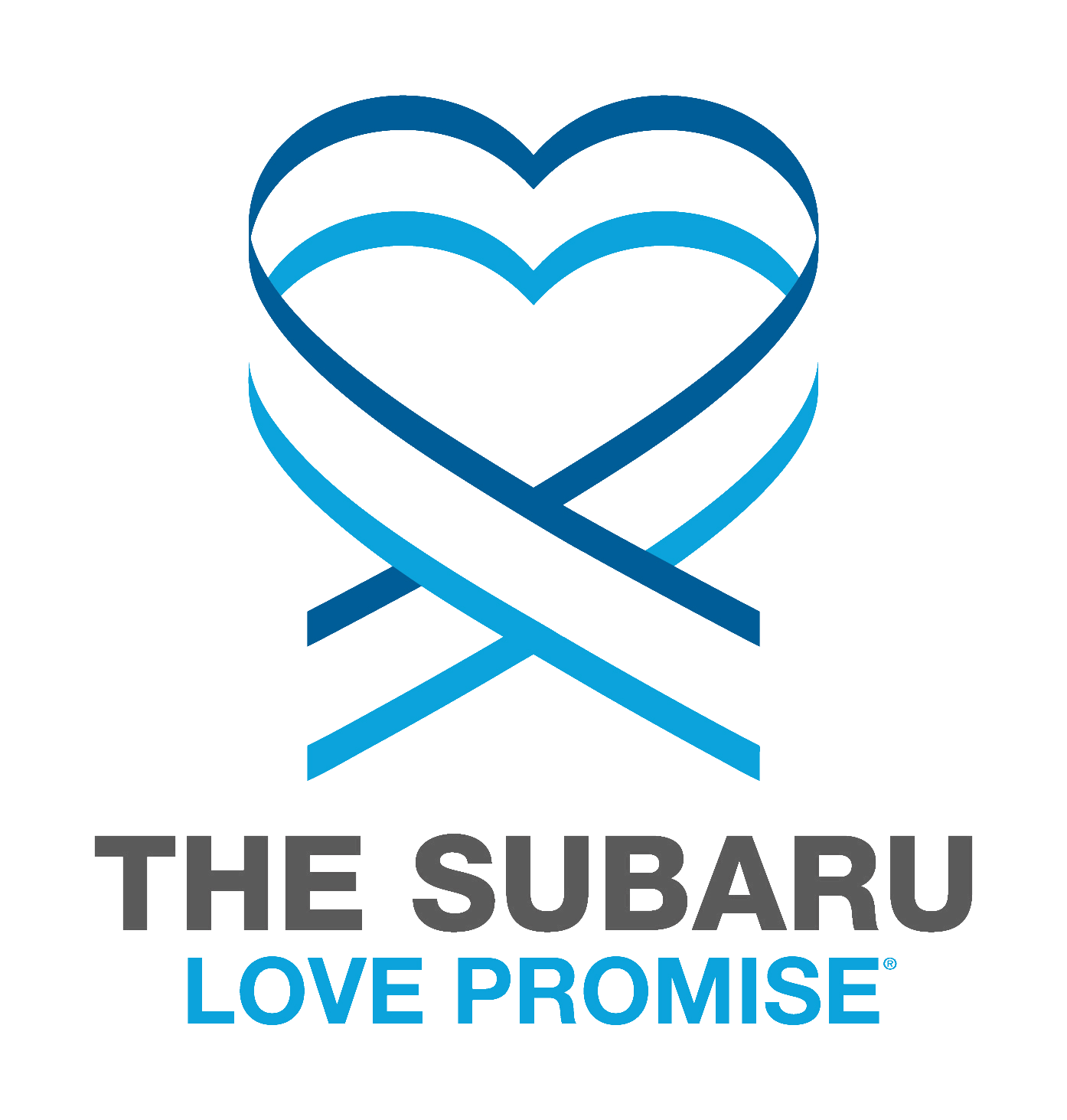 What is the Subaru Love Promise?
Subaru and our retailers believe in making the world a better place and the Subaru Love Promise is our vision of respecting all people. This is our commitment to show love and respect to our customers and to work to make a positive impact in the world.
How is Flow Subaru Burlington dedicated locally to the Love Promise?
Our Love Promise can be seen in various partnerships with local charities and non-profits. We're grateful for the opportunity, not only to be a part of our community, but to serve it as well.
Alamance County Humane Society
Alamance-Burlington School System
United Way, Alamance County Meals on Wheels, Burlington Police Department
Alamance Regional Medical Center
Love Promise Stories from Flow Subaru Burlington
Subaru and Flow Subaru Burlington believe in making a positive impact on the communities in which we live and work. We uphold that belief through our Love Promise Community Commitment. Every month, we select inspiring stories from customers and partners from around our area who strive to support our collective commitment and feature them here
Congratulations Bryan Campbell! - Brooke S
Congratulations to our very own Bryan Campbell for winning the Subaru Love Promise® Moment Monthly Recognition! Bryan went above and beyond to care for a customer, Mrs. Foster, who had recently lost her husband. Bryan and the rest of our Subaru Burlington family wanted to show our support and love for her during this difficult time. Bryan and the rest of the team presented Mrs. Foster with flowers, a signed card, and a gift basket with snacks and drinks for her road trip to her husbands memorial. We hope we were able to bring a little bit of light to her life during this difficult time. Thank you for all your hard work Bryan!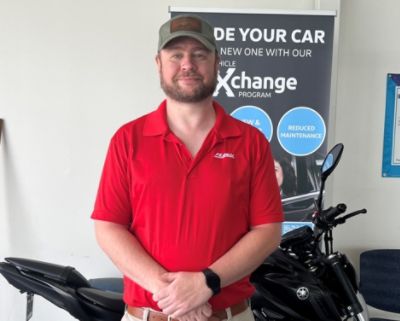 ---
Thank you to the Humane Society of Alamance County - Brooke S
Flow Subaru of Burlington is honored to be able to continue our support of the Humane Society of Alamance County. Thank you to the Humane Society for all that you do! The Humane Society of Alamance County (HSAC) is a non-profit organization that is dedicated to improving the lives of animals in the Alamance County area. Their mission is to provide quality care and find loving homes for abandoned, abused, and neglected animals. HSAC offers a range of services to animals in need, including rescue, rehabilitation, and adoption programs. They also work to educate the community about responsible pet ownership and the importance of spaying and neutering. The organization is run by a dedicated team of volunteers and staff who are committed to making a difference in the lives of animals and the community as a whole.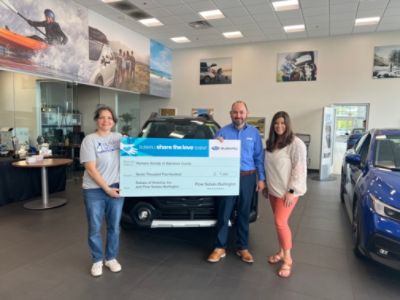 ---
Saving Calamari - Pamela M
In June of this year, through our participation in the Subaru Share the Love Event, FLOW Subaru of Burlington contributed another $5,100 to our rescue and this donation couldn't have come at a better time... The first week of July, we received a call from a Good Samaritan who had spotted an injured stray cat in the shopping center directly across from the FLOW Subaru location. We quickly dispatched our TNR team to the area and found a cat in urgent need of medical help. "Calamari" wore a collar that had slipped over her front, right leg and, as a result of the pressure, the collar had embedded into her flesh. Her wound was so severe that we knew she required immediate medical help in order to survive so we quickly put a plan in place to trap her and bring her to safety. Luckily, the lure of delicious cat food proved too great for her to ignore; we were able to humanely trap her within a couple of hours and rush her to the vet! Since her rescue four months ago, Calamari has had to visit the vet regularly. She's endured multiple surgeries, has tolerated splints and has been quite vocal about how much she dislikes physical therapy. The road to recovery for this sweet girl is long but she continues to get better every day, and, for that, we are grateful! As a local non-profit, animal welfare organization, the Humane Society of Alamance County is able to continue helping community animals through public support. FLOW Subaru's donation to our rescue made it possible for us to provide Calamari with the excellent level of veterinary care she required. Had we not received those funds in June that helped us immediately cover her costs, we likely would've had to consider euthanizing Calamari instead. The support of our community partners, like FLOW Subaru of Burlington, is invaluable to us and integral to the survival of our organization. We are so thankful for the Subaru company's love of pets that supports animal welfare groups like ours and aims to make the world a better place for them, one animal at a time. THANK YOU, FLOW SUBARU OF BURLINGTON! Calamari thanks you as well!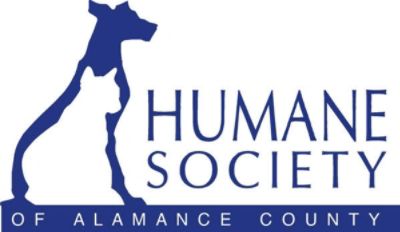 ---
Subaru Loves to Help - L M
Flow Subaru of Burlington loves to the clients of Meals on Wheels of Alamance County. Recently they made a donation of box fans to the local charity. These fans are invaluable to those who either don't have air conditioning or the money to run it.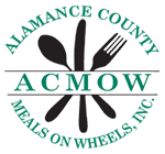 ---
Our customers love the Earth - Lee M
Every week we see a couple of customers who live in one of our local retirement communities bring in their wrappers, lids and coffee pods to recycle. Some weeks we can tell they brought in their neighbors contributions as well. We are happy to be at a dealership that cares.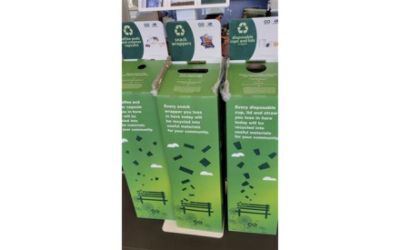 ---
Helping with children - C F
When I was in service waiting for my vehicle, I had my 3 year old with me (who is not very patient). A very nice gentleman came over and offered my child to pick out a toy from his bag. This was so very helpful with the wait time and kept my child busy while we were waiting. I really appreciate the time he took. I will definitely be coming back to Flow Subaru of Burlington!!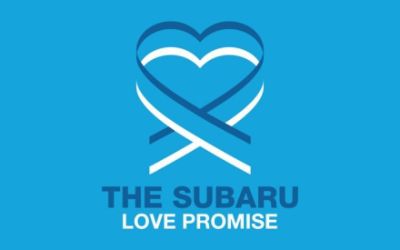 ---
Sharing the love at Woofstock! - Pamela M
As the Humane Society of Alamance County continues to learn how to navigate through these unprecedented times, we have found comfort in knowing that our partnership with Flow Subaru of Burlington and their support of our mission has continued to flourish. Our animal welfare organization is funded solely by public donations and does not receive any state or federal contributions. Therefore, we heavily rely on our ability to hold fundraising events in order to maintain the programs our rescue offers to our community and its animals in need. Our annual Woofstock Festival is our biggest fundraiser of the year and with the help of our wonderful event sponsors, vendors and attendees, the donations generated there in the past have helped sustain our programs, especially our Rescue and Foster program. In 2020, we were forced to place the festival on hold due to Covid-19, which truly hurt our rescue and our ability to help as many animals as possible. This year however, with proper safety precautions in place (and on a much smaller scale), we were luckily able to host Woofstock and get back into the swing of things! Flow Subaru of Burlington offered to sponsor the event once again and attended the Festival! They set up a booth and brought a Subaru for guests to view and attract attention. They awarded visitors with fantastic Bark Box raffle prizes every hour (which people absolutely loved)! It was wonderful to have one of our leading community partners at the event itself, representing not only themselves but their year-long support of our organization's mission. Having them attend our first big fundraiser in almost two years meant the world to us and made us all the more grateful for their support. Thank you, Flow Subaru of Burlington!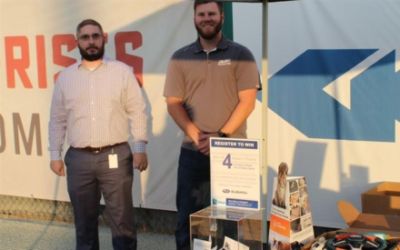 ---
Flow Subaru of Burlington Community Blood Drive - Kim W
Summer is a challenging time for blood collections and because of your time and efforts, additional lives have been extended or saved. There were 21 units collected at the Flow Subaru of Burlington Community Blood Drive on July 27th which has the potential to save 63 lives. Thank you again for all you do!
---
With Much Gratitude and Heartfelt Thanks! - Pamela M
Year after year, our friends at Flow Subaru Burlington have shown their love for Alamance County's animals in need by supporting our organization, the Humane Society of Alamance County. Not only have they dedicated themselves to raising much needed funds for our rescue but they have also worked to collect countless pounds of food and other items from fellow employees and community residents. Our yearly Share The Love celebration hosted at the dealership has always served to help us connect with our community and introduce the pets in our foster care program to potential adopters. Last Fall, with Covid-19 still raging throughout the state (and country), we were hesitant to hold an event for the National Make A Dog's Day Campaign Subaru had launched, for fear of potentially exposing our volunteers and animals to the virus. Flow Subaru Burlington got creative and offered to host the event at our smaller office location instead, with proper safety precautions in place and better foot traffic control. They helped set up our office space in a way that our fosters, pets and visitors would be appropriately distanced. They parked a display vehicle in our lot in order to encourage passersby to stop in and "Fill a Forester" with pet food, cat litter and toy donations. They visited with our animals and listened to our foster families share their stories. They helped us break everything down and clean the space when done. Their willingness to help us think outside the box and adapt helped us hold a successful event when we really didn't think one was possible. By the end of October, five of our dogs and cats had been adopted into amazing families! And, by the end of the Campaign, Flow Subaru of Burlington had raised $7,534 for the HSAC! Our organization works tirelessly, day in and day out, to help the all too often neglected and abandoned animals in our county. As it is every year, that monetary donation will be instrumental in helping us maintain the programs we offer to the community, especially the Rescue & Foster Program! Thank you, Flow Subaru of Burlington, for everything that you do for us at the HSAC and those beloved, four legged friends that depend on us to be their voice. We are truly so very grateful for your team's dedication to animal causes and your desire to make this world a better place for them. Partnering with Subaru has truly been essential to our organization's success and we hope to have that support for years to come!
---
Share the Love Check Presentation - L M
Each year Flow Subaru of Burlington assists the Humane Society of Alamance County through donations and collection drives. HSAC is also our local charity for Share the Love through Subaru of America. This year we raised over $7500 to help care for the forgotten pets in our community.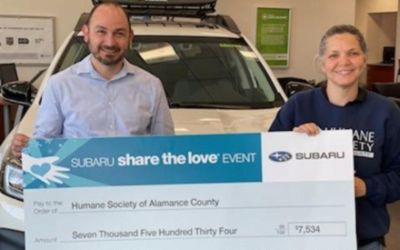 ---