The 2021 Subaru Love Promise Customer and Community Commitment Award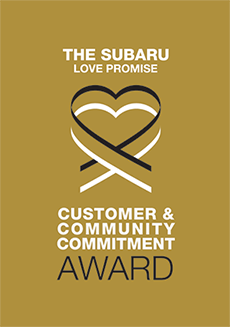 We've been nationally recognized for our dedication to our customers, our community, and the Subaru Love Promise.
We're honored to receive the 2021 Subaru Love Promise Customer and Community Commitment Award. This award nationally recognizes elite Subaru retailers who provide an exceptional customer experience at every interaction with Subaru. These retailers have also demonstrated an outstanding commitment to supporting passions and causes in their local communities in important areas such as the environment, community, health, education, and pets.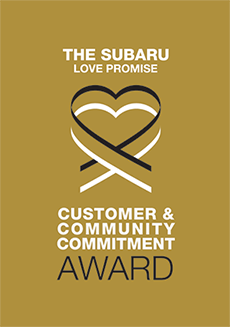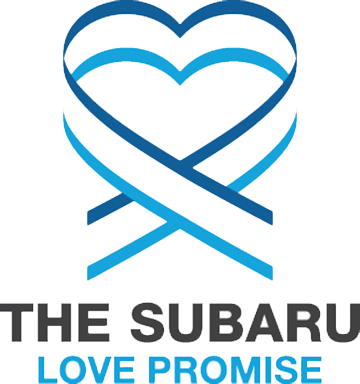 What is the Subaru Love Promise?
Subaru and our retailers believe in making the world a better place and the Subaru Love Promise is our vision of respecting all people. This is our commitment to show love and respect to our customers and to work to make a positive impact in the world.
How is Flow Subaru Burlington dedicated locally to the Love Promise?
Our Love Promise can be seen in various partnerships with local charities and non-profits. We're grateful for the opportunity, not only to be a part of our community, but to serve it as well.
Alamance County Humane Society
Alamance-Burlington School System
United Way, Alamance County Meals on Wheels, Burlington Police Department
Alamance Regional Medical Center
Love Promise Stories from Flow Subaru Burlington
Subaru and Flow Subaru Burlington believe in making a positive impact on the communities in which we live and work. We uphold that belief through our Love Promise Community Commitment. Every month, we select inspiring stories from customers and partners from around our area who strive to support our collective commitment and feature them here
Sharing the love at Woofstock! - Pamela M
As the Humane Society of Alamance County continues to learn how to navigate through these unprecedented times, we have found comfort in knowing that our partnership with Flow Subaru of Burlington and their support of our mission has continued to flourish. Our animal welfare organization is funded solely by public donations and does not receive any state or federal contributions. Therefore, we heavily rely on our ability to hold fundraising events in order to maintain the programs our rescue offers to our community and its animals in need. Our annual Woofstock Festival is our biggest fundraiser of the year and with the help of our wonderful event sponsors, vendors and attendees, the donations generated there in the past have helped sustain our programs, especially our Rescue and Foster program. In 2020, we were forced to place the festival on hold due to Covid-19, which truly hurt our rescue and our ability to help as many animals as possible. This year however, with proper safety precautions in place (and on a much smaller scale), we were luckily able to host Woofstock and get back into the swing of things! Flow Subaru of Burlington offered to sponsor the event once again and attended the Festival! They set up a booth and brought a Subaru for guests to view and attract attention. They awarded visitors with fantastic Bark Box raffle prizes every hour (which people absolutely loved)! It was wonderful to have one of our leading community partners at the event itself, representing not only themselves but their year-long support of our organization's mission. Having them attend our first big fundraiser in almost two years meant the world to us and made us all the more grateful for their support. Thank you, Flow Subaru of Burlington!
---
Flow Subaru of Burlington Community Blood Drive - Kim W
Summer is a challenging time for blood collections and because of your time and efforts, additional lives have been extended or saved. There were 21 units collected at the Flow Subaru of Burlington Community Blood Drive on July 27th which has the potential to save 63 lives. Thank you again for all you do!
---
With Much Gratitude and Heartfelt Thanks! - Pamela M
Year after year, our friends at Flow Subaru Burlington have shown their love for Alamance County's animals in need by supporting our organization, the Humane Society of Alamance County. Not only have they dedicated themselves to raising much needed funds for our rescue but they have also worked to collect countless pounds of food and other items from fellow employees and community residents. Our yearly Share The Love celebration hosted at the dealership has always served to help us connect with our community and introduce the pets in our foster care program to potential adopters. Last Fall, with Covid-19 still raging throughout the state (and country), we were hesitant to hold an event for the National Make A Dog's Day Campaign Subaru had launched, for fear of potentially exposing our volunteers and animals to the virus. Flow Subaru Burlington got creative and offered to host the event at our smaller office location instead, with proper safety precautions in place and better foot traffic control. They helped set up our office space in a way that our fosters, pets and visitors would be appropriately distanced. They parked a display vehicle in our lot in order to encourage passersby to stop in and "Fill a Forester" with pet food, cat litter and toy donations. They visited with our animals and listened to our foster families share their stories. They helped us break everything down and clean the space when done. Their willingness to help us think outside the box and adapt helped us hold a successful event when we really didn't think one was possible. By the end of October, five of our dogs and cats had been adopted into amazing families! And, by the end of the Campaign, Flow Subaru of Burlington had raised $7,534 for the HSAC! Our organization works tirelessly, day in and day out, to help the all too often neglected and abandoned animals in our county. As it is every year, that monetary donation will be instrumental in helping us maintain the programs we offer to the community, especially the Rescue & Foster Program! Thank you, Flow Subaru of Burlington, for everything that you do for us at the HSAC and those beloved, four legged friends that depend on us to be their voice. We are truly so very grateful for your team's dedication to animal causes and your desire to make this world a better place for them. Partnering with Subaru has truly been essential to our organization's success and we hope to have that support for years to come!
---
Share the Love Check Presentation - L M
Each year Flow Subaru of Burlington assists the Humane Society of Alamance County through donations and collection drives. HSAC is also our local charity for Share the Love through Subaru of America. This year we raised over $7500 to help care for the forgotten pets in our community.
---
Meals on Wheels Food Drive - Ashley O
One of the many reasons we are thankful for our partnership with Flow Subaru of Burlington is their willingness to help Alamance County Meals on Wheels collect donations for our food pantry. With every food drive they have done it always provides enough food for the 50 plus clients who receive additional food from our agency every month. Thank you Flow Subaru of Burlington for another successful food drive.
---
Christmas Gifts For Meals On Wheels - Lee M
Flow Subaru of Burlington is always looking for ways to give back to our community. This year, our team purchased Christmas gifts for Alamance County Meals on Wheels client's, from their wish lists, and delivered them to ACMOW for distribution. It's a wonderful feeling knowing you were able to spread a little Christmas cheer to seniors in your community by giving them a gift to open. For many of their clients, these were the only presents they received this holiday season. We appreciate all that Alamance County Meals on Wheels does in our community.
---
Alamance County Meals on Wheels - Ashley O
Alamance County Meals on Wheels is thankful for our partnership with Flow Subaru of Burlington. Through the Share the Love Campaign Flow Subaru of Burlington held a food drive for our agency and collected more than enough food to fill our shelves. Donations help us secure our ability to provide additional food to clients who can't purchase groceries each week. We are also grateful for the continued dedication Flow Subaru of Burlington shows to our agency in volunteering in monthly meal delivery to our clients. Meals on Wheels wouldn't be possible for our amazing volunteers and our clients love the friendly faces. Thank you Flow Subaru of Burlington!
---
Meals on Wheels Food Drive - L M
Flow Subaru Burlington is collecting food for Meals on Wheels of Alamance County. The dealership has partnered with Meals on Wheels for years, both holding food drives and delivering meals. This year they also collected Christmas gifts for clients of Meals on Wheels.
---
With Heartfelt Thanks - Pamela M
To say that 2020 has been a difficult year for us at the Humane Society of Alamance County would be an understatement... We began the year feeling hopeful and energized, ready to carry on our mission to continue taking care of the animals in need of Alamance County. Our adoption events were scheduled and plans for our large scale fundraisers were put in place. We never expected anything like Covid-19 to begin sweeping across the country when it did and stop us in our tracks. It left us feeling afraid, anxious and unsure of the fate of our rescue. In order to do our part to help mitigate the spread of the virus and keep our volunteers and animals safe, we made the right but heartbreaking decision to cancel all of our events. Not being able to spend time with our community and its beloved pets certainly took a toll on our mental and emotional well being. As animal welfare advocates, we have always thrived on being able to connect with pets, their people and our supporters in person and not being able to interact with them has been difficult. As a nonprofit 501(c)3 organization that doesn't receive funding from the government or any national humane organization, cancelling our community events and fundraisers deeply affected our ability to ask for and receive donations which in turn jeopardized our ability to sustain our programs. As weeks went by and the state of the pandemic fluctuated, we wondered if we could begin scheduling and holding events on a much smaller and safer scale, specifically our Subaru Loves Pets event. Typically hosted at the Flow Subaru Burlington location, we weren't sure how to make it happen so that our volunteers and supporters felt comfortable attending. That's when Flow Subaru Burlington stepped up in a big way. Instead of hosting the adoption event at the dealership, Subaru offered to come to our office location instead! With the help of their marketing and local managing departments, we were able to easily communicate details and get things set so that the pace would be controlled for everyone's safety. On October 24th, Flow parked a beautiful Forester in our lot for supporters to fill with donations. They helped us set up our indoor space with distanced tables and kennels for the adoptable felines and their fosters attending the event. They helped us place our bins of pet costumes and clothing outside for visitors to rummage through and try on their pets. They helped by talking to visitors that came by to check things out, buy a costume, meet our cats and make a donation. People saw our signs up again, our volunteers out and "Chance", our mascot, waving hello. Several families came by to greet our animals and get some pet therapy; others even applied to adopt one or two. This event may not have been as large as our Subaru events of former years but, in that moment, it was honestly just what we needed. It gave us a sense of normalcy and a sense of community that we had been missing. It gave the few volunteers that attended the opportunity to catch up with each other and find things to laugh about. While we are incredibly thankful for the work Flow puts in, year after year, to raise monetary donations for our little rescue through sales, helping us this year in this way meant all the more to us because it truly spoke to the spirit of what a community partnership should be...and we are so grateful to Flow Subaru Burlington to have given us that. From all of us at the Humane Society of Alamance County, especially the tail waggers and swishers we adore and work so hard to protect, THANK YOU.
---
Delivering Blankets To Those In Need - Anita B
As part of the Subaru Loves To Help campaign, Flow Subaru of Burlington employees recently delivered 80 blankets to the Greensboro Urban Ministry Weaver House Shelter. Weaver House Night Shelter offers year round shelter to adult men and women, accommodating 100 people nightly. Weaver House welcomes all who are in need of shelter and no one in real need is turned away unless space is not available. On dangerously cold winter nights, the lobby of Weaver House serves as one of the Greensboro's White Flag Warming Centers holding an additional 25 guests. All guests are served breakfast at the Potter's House Community Kitchen.
---